Our South Lakes Team, supported by other teams and volunteers are leading this project. The intention here is to narrow the path, to create containment and improve the walking surface so people are encouraged to use the durable surface. Stone is required for landscaping, drainage and stabilising the steeper slopes, which will include some pitching work. The section of the path being worked on is from Red Tarn to the first Crinkle.
Some of this work is ideal for volunteer groups and is planned for several of the working holidays from the National Trust's Basecamp/bunkhouse at High Wray. These have already started to take place and Kendal College completed some stone-pitching work recently and in June we had a major "blitz" weekend with our Lengthsmen and volunteers and rangers from Scotland and Wales who work on their upland paths.
it is a beautiful location to work in with views over the Crinkles and into Great Langdale and we hope to finish it this year. A shed is being constructed to ensure that if we get any prolonged bad weather, our rangers and volunteers can have shelter at lunchtime.
This is another site we flew rock to for the work.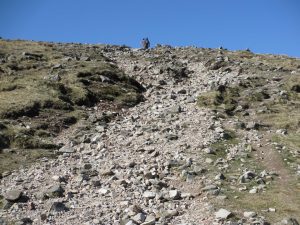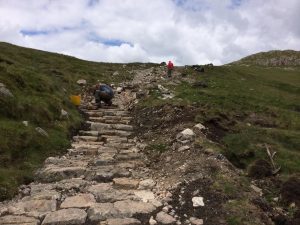 OUR BLITZ WEEKEND