Fix the Fells volunteer Christine Hurford receives the Lake District National Park Bryan Stilling award.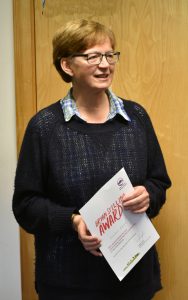 Christine, from Maidenhill Penrith, has received the Bryan Stilling award from the Lake District National Park. It is given each year to a volunteer who has made an outstanding contribution. Last year another local person – Tony Corbett received the award for his battle with balsam around Ullswater.
Christine has volunteered for over 10 years with Fix the Fells, doing over 500 duties- which involves path maintenance on the popular high footpaths of the Lakeland fells, giving talks to local groups about the work and helping with the new recruits, as well as cooking the Christmas dinner for over forty for the past few years.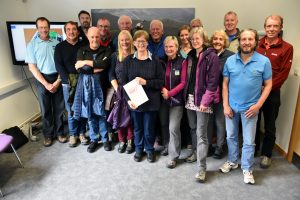 Christine received the award at a surprise event at the northern office of the Lake District National Park at Threlkeld when she thought she was showing pictures of the footpath work to the new volunteers. Chris Wingrove who is volunteer team leader presented a certificate and voucher to spend in a Cotswold shop.
Christine says "My great love is in clearing drains. Friends think I am rather odd when I talk about the cross path drains on the fells, of how they can fill with stones and other debris and the pleasure I get from seeing them clear, with water running through, down the hillside and not along the path causing erosion. Many paths have to be checked 4 or 5 times a year so it is a never ending job.
I am really honoured to receive this award. I can honestly say I have loved every single day spent working on the hills, even when the weather has been wet or cold. Fix the Fells is a great group of people of all ages, we work hard but have a good time with plenty of good craik."
If you enjoy walking and have the time, volunteering for the Park is a good way doing something to help; there are plenty of jobs need doing and you are part of a great team.