Big Co-op Payout
The Co-op and its customers have contributed a total of £1,836.08 to help look after the Lake District scenery through the work of volunteers with Fix the Fells.
The Big Co-op Payout involves thousands of local causes which are celebrating and saying a very big "Thank you!" to Co-op members for raising a total of £17 million nationwide.
The fundraising opportunity ran for a year to October 2019 and during that time Co-op Members could choose a cause to give their 1% to when they shopped at their local Co-op.
Carol and Walter Oates, Fix the Fells Volunteers from Newby Bridge, proposed Fix the Fells as the cause for their local Co-op's annual fundraising challenge.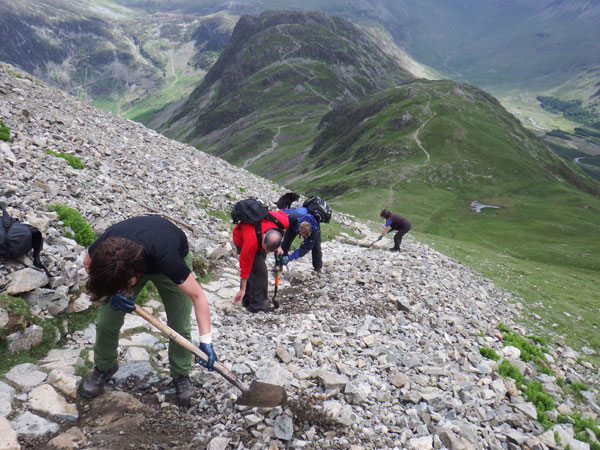 Carol said, "My husband and I volunteer with Fix the Fells, which aims to protect the spectacular Lakeland fells from erosion by maintaining and repairing the upland paths. This is undertaken throughout the year and in all weathers by a group of 130 specially trained and highly enthusiastic volunteer "lengthsmen".
This term comes from medieval times when lengthsmen were paid to walk the length of the parish and repair any roads and unblock ditches
The majority of the lengthsmen come from the immediate Cumbria area and want to "give something back" to the fells they love and enjoy. New volunteers are recruited at the start of each year to increase lengthsmen numbers and funds were sought to buy additional tools, work equipment, and weatherproof clothing for them.
How this cause brings people in the community together
Fix the Fells consists of volunteers of various ages and diverse backgrounds, mainly recruited within Cumbria, who work in groups to carry out high fell footpath repair and maintenance work. These volunteers become part of a dedicated and friendly team who pass on their enthusiasm for and knowledge of the Fells to others they meet while out working on the Fells.
Joanne Backshall, Fix the Fells Programme Manager, said, "Fix the Fells works to protect the wonderful Lakeland landscape and wildlife, which is enjoyed and valued by so many people. This high level of use is not sustainable without some intervention and our volunteers and Rangers work very hard every year to repair erosion damage. The Co-op funding towards tools and equipment for our volunteers is very gratefully received. It is extremely helpful in enabling us to continue this vital work for the benefit of us all."