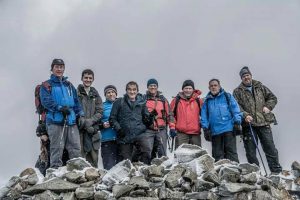 A Carlisle walking group from Cavaghan and Gray has climbed England's highest mountain, Scafell Pike, to raise money to help "fix the fells" in the Lake District.
The walkers, who all work at Cavaghan and Gray in Carlisle and are part of the Union there, enjoy the Lake District fells and decided to do something to help look after them.
Nine members of the Cumbrian Wayfarer group walked up Scafell Pike at the head of Wasdale in April and successfully made it to the summit. They have raised a total of £440 from sponsorship and from the Union itself.
The walkers on the day were Tom Coward, Jack Patrickson, Larry Walker, Jason Selkirk, Andrew Bailey, Ian Mitchinson, Mark Bell, David Thompson and Scott Currie.
David Thompson said, "We hope this sponsor money will help keep the Lake District in good condition in what is a fantastic place for locals and tourists. Thank you to Fix the Fells for all your help and hard work, it is much appreciated by us all."
Joanne Backshall, Fix the Fells Programme Manager, said, "We are really grateful for this kind donation towards our work repairing and maintaining the upland paths and landscape of the Lake District. We could not do this without the help and support of the walkers and many other recreational groups who use and enjoy the fells."
"The combination of people and rainwater in the fells leads to erosion. If no action is taken, this damage develops in to wider and deeper scars which destroys vegetation and moves soil and stone in to rivers and lakes."
"Fix the Fells only works on a fell if there is damage that needs repairing. We use traditional techniques to create resilient surfaces which are better able to withstand the increasing number of visitors and severe weather events."