Flying start to 2021 for Fix the Fells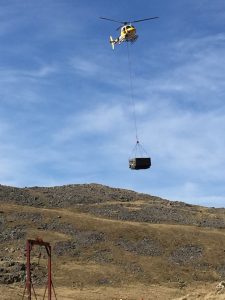 Fix the Fells has had a flying start to 2021 with Rangers and Volunteers now active all over the Lake District, repairing erosion and maintaining the upland path network.
It has been a tough time during the coronavirus pandemic.  All our lives have been disrupted and it has been incredibly difficult for many people.  Our sincere condolences go to everyone who has suffered loss or distress.  The Lake District fells have provided much needed solace for many people during the pandemic and this is greatly welcomed, but it leads to additional pressure on the paths.  So it is with gratitude and great delight that we have resumed our activities, protecting the landscape and its associated biodiversity from erosion damage.
April heli-lift
Our helicopter lift of materials is always an exciting time and this year the April heli-lift was one of the most complex we've ever undertaken.  We flew 220 bags of stone for our path repair work all across the Lakes, as well as a variety of things for ourselves and others, including a 5-tonne digger, a bridge, two sheds, bags of seed, fencing materials and a stretcher box!
Scafell Pike flying digger
The excavator was flown in pieces on to the side of Scafell Pike as part of our repair work on the most popular route to the summit from Wasdale Head.  It took two weeks to break it down in to small enough pieces for the helicopter to lift safely, a day to fly it on to site, a week to reassemble it on the mountain and it will be working there for two months.  Then the whole process will be repeated in reverse as part of our July heli-lift.  The digger is involved in one section of our path repairs on this 5 km route to the 978 m top. We're repairing five sections altogether, with the majority of the work being carried out by hand by our National Trust Ranger team in the West Lakes.
This challenging operation attracted considerable media interest and you can watch the news story on ITV, or  watch on BBC Breakfast.  For more information on this fascinating project, you can see the Press Release here: https://www.fixthefells.co.uk/work-begins-to-fix-footpaths-on-englands-highest-mountain/ and look at the webpage here: Work begins to fix footpaths on England's highest mountain | National Trust
Path repairs underway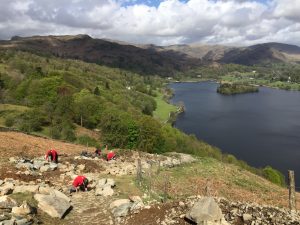 With materials all in place, the Rangers are now working hard on their respective projects.  If you are out and about in the Lakes, you might come across them on the path from the terrace to the summit of Loughrigg Fell, near the summit of Coniston Old Man, on Gillercomb in Borrowdale and on the main route up Scafell Pike from Wasdale Head.  A great blog by one of our Rangers, Ade, tells the story of the work on the Loughrigg path: http://fellrangers.blogspot.com/   For more details of our plans for erosion repairs this year and beyond, please visit our website here:  https://www.fixthefells.co.uk/work-programme/
Welcoming Annie Duckworth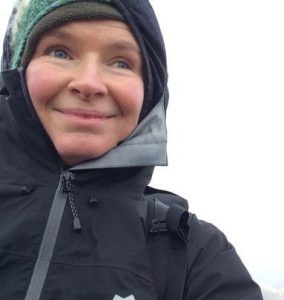 Coordinating the week-long April heli-lift was a busy start for Annie Duckworth who had to land running in her now role as Lake District National Park Fix the Fells Ranger. We're delighted to welcome Annie who has been involved in Fix the Fells in various capacities for many years.  Annie has lived in Cumbria for the last two decades, working in a number of different conservation roles including as a nature reserve warden, ranger, field studies tutor, outdoor education instructor and teacher.  She has seen first-hand the work and achievements of Fix the Fells and is delighted to be taking on this new role. You can read more about Annie's appointment here: https://www.fixthefells.co.uk/new-fix-the-fells-ranger/
Welcoming 10 new Seasonal Rangers
We're also delighted to welcome 10 new National Trust Seasonal Rangers to the Fix the Fells staff team.  We were surprised to receive 982 applications and undertook four days of interviews.  The successful candidates come from Cumbria as well as other parts of the UK and include two Fix the Fells volunteers.  They started work at the beginning of April 2021 and their contracts run until the end of October 2021.
To enable the Rangers to get around we've added five second hand vehicles to our fleet  The Rangers have already completed manual handling, path maintenance and first aid training and been kitted out with appropriate outdoor gear to protect them in their hard physical labour and the challenging Cumbrian weather!  It's been great to see the burst of new enthusiasm and ideas they have brought to us all as we emerge from this challenging pandemic year.  We hope the Lake District weather is kind to them and they enjoy their time with us this year.
Volunteering resumes with gusto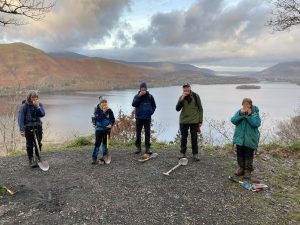 We currently have 110 volunteer lengthsmen who maintain and repair the Lake District's fell paths throughout the year. The term comes from medieval times when lengthsmen would be paid to walk the length of the parish and repair any roads and unblock ditches. Pre-covid, the volunteers were contributing 2,500 days a year and efficiently organising their own calendar of over 200 events each year.  Walking the paths every week according to a planned schedule, they keep the drainage features and stone pitching clear of loose material.  This regular maintenance helps protect the landscape from further erosion.  They also carry out their own agreed path repair projects which greatly increase our capacity to manage erosion as outdoor recreation grows in popularity.
While our staff remained at work during the pandemic lockdown at the start of 2021, sadly our FtF volunteer activity was suspended.  However, this happily resumed with gusto in March and the path maintenance days and work parties on the volunteer event calendar rapidly filled with willing helpers.  As a result, the backlog of routine path maintenance work was very quickly caught up and volunteer repair projects were initiated again.  Now our schedule of events continues to gather pace as the restrictions ease and we're increasing the opportunities for more people to take part.  A sincere thank you is extended to all our volunteers for their enormous enthusiasm and energy post-lockdown! We couldn't continue to look after the Lake District fells without their help and we're constantly humbled and grateful for their hard work and commitment to the cause.
For more information on volunteering with Fix the Fells, you can see our website here: https://www.fixthefells.co.uk/volunteer-lengthsmen/
Rangers and volunteers working together
 We're delighted that two of our Rangers, Rob and Matt, are dedicated to working with volunteers and this has enabled us to organise even more volunteer work parties.  Rob and Matt are helping to coordinate staff-led and volunteer-led tasks, share knowledge and experience and embed our new volunteer training system.  Formal training is provided for all volunteers in navigation, first aid and path maintenance.  Practical training is also provided on the job by the Rangers in path survey and repair techniques, with a training record card being completed as experience is gained and recorded.  It's great to see this growth in expertise across the whole Fix the Fells team and we hope it provides satisfying progress and rewards for all concerned.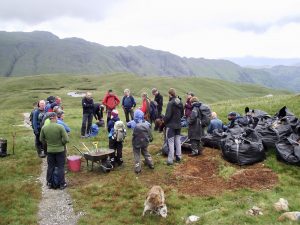 Significant boost from the European Regional Development Fund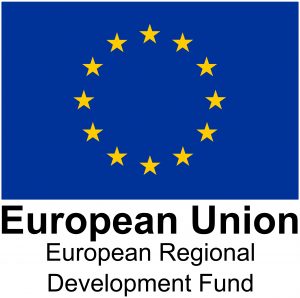 In 2019 we were fortunate enough to secure grant funding from the European Regional Development Fund (ERDF) for three years.  Then at the end of 2020 we were given the opportunity to expand and extend the project and funding and were very grateful when this was agreed.  The original project was for £1.3 million from 2019-2021 and the expanded project is now £2.2 million from 2019 to 2023 with 60% coming from ERDF.  Up to the end of March 2021 we have been able to claim £404,000 from ERDF.
The extended funding enabled us to take on the extra staff and achieve further erosion repairs, at a time when it is particularly needed.  The pandemic lock downs have highlighted the benefits of the countryside to our mental and physical health and wellbeing and the Lake District is an obvious place for this therapy.  The inclination to holiday in this country has also increased visitor numbers and this has all added to the pressure and erosion damage in the fells.  So, we are delighted to be able to tackle more of this erosion repair work thanks to the ERDF funding.  It is also gratifying to be offering job opportunities in countryside conservation at a time of extensive job losses across the country.
The Ministry of Housing, Communities and Local Government (MHCLG) completed a virtual audit of our ERDF-funded project at the start of 2021 and we were pleased that we met all their exacting requirements.  As a result, despite the significant financial impacts of the pandemic in 2020, our budget forecast for '20/21 shows that we are on track to meet our ambitious ERDF practical work and financial targets for 2021.
A new venture for Fix the Fells
 For the first time, we've used stone flags in the uplands of the Lake District.  In a partnership project with the National Trust Riverlands Project, United Utilities and Cumbria Wildlife Trust, we laid a stone flagged path along the top of the ridge to the west of Thirlmere reservoir.  This work is part of a significant peatland restoration project with multiple benefits for people and wildlife.  For the path, a helicopter flew 550 stone flags, reclaimed from mill floors in Lancashire, on to the boggy route between High Tove and High Seat.  A digger was then used to lay the flags, create a long stretch of path and re-profile eroding peat hags.  For more information on this great project, see here: Derwent Riverlands – behind the scenes | National Trust
More machine work projects are planned on gravel paths this year, including work on Skiddaw, Helton Fell on the Ullswater Way and at Red Tarn on Helvellyn.  We're grateful to our contractors, Terra Firma Environmental Ltd, for their expertise in upland path repair and their passion for sensitive conservation in these fragile habitats.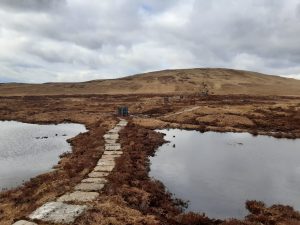 Protecting people and the environment
 We take the safety of the general public, volunteers, staff, contractors and the environment very seriously.  We realise that our activities present considerable risks to them all.  We are legally and morally required to identify and mitigate against all potential risks and we work hard to do this constantly in all our operations.  Our Rangers and Volunteers worked together in 2019 to review and update our extensive Operations Manual and this guides everything we do.
Fix the Fells is about protecting the Lake District's beautiful scenery and precious environment.  It isn't about increasing access, accessibility or safety – we are not working to keep walkers boots dry!  We are working to protect the world-renowned landscape and its nationally and internationally important habitats and species.  To do this we are repairing access-related erosion and this involves doing as little as possible but as much as necessary.  Finding the right balance is tricky and takes much careful thought and consideration, particularly about the behaviour of people and water on the fells.  It is achieved by our Rangers who between them have over 130 years of upland path work experience!
If you have any questions about what we do, how and why, you may like to look at our regularly updated Frequently Asked Questions here: https://www.fixthefells.co.uk/who-we-are/faq/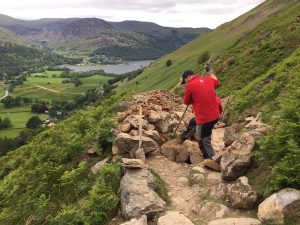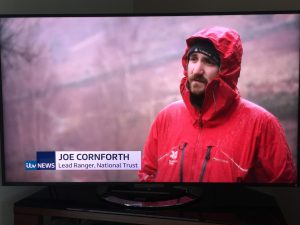 Moving on and up
 Congratulations to our North Lakes Ranger team supervisor Joe on his promotion to Lead Ranger in his area, at present on a temporary basis.  As a result, Joe's deputy Ted is temporarily acting up as the North team supervisor and his team-mate Jordon is acting up as his deputy. It's good to see this demonstration of career progression opportunities for FtF staff, if they wish to move on, particularly as this was one of the main aims of the staff re-structure we completed in 2019.
 Spreading the word
 During the last year the work of Fix the Fells has resonated with people who have enjoyed the great outdoors and realised its benefits for mental and physical health and well-being.  We are well placed to capture and reflect people's appreciation of the countryside and the need to care for it.  So, our work has been of interest to the media and this has led to numerous positive national and local news reports.  This publicity helps to foster understanding and support for our work.
To see recent articles, you can browse our website News feed here https://www.fixthefells.co.uk/latest-news/ and our social media feeds here https://www.facebook.com/fixthefells1 and  here: https://twitter.com/fixthefells  These include various blogs and articles by staff and volunteers telling their wonderful stories of their work in the fells.  To see images of all this activity you can browse our image gallery here  https://www.flickr.com/photos/fix-the-fells This includes a large album of "before and after" images showing the impacts of our work here: https://www.flickr.com/photos/fix-the-fells/albums/72157703382029205.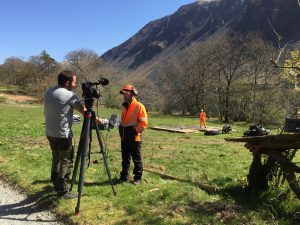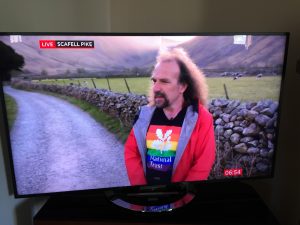 Funding for the future
 Fundraising is vital if we are to continue protecting the scenery and biodiversity of the Lake District fells. The pandemic has reduced our fundraising by about 50% and is necessary for non-ERDF-funded elements as well as to create reserves for the future.  We hope the easing of restrictions and the return of tourists to the Lakes will enable us to resume generating much needed funds to look after the countryside which visitors and locals alike truly value. We also recently trialled a new on-line event for people interested in hearing about National Trust projects in the Lake District and this seemed to be well received.  We are so grateful to all our supporters and donors for their kind generosity during this financially difficult time.
The success and effectiveness of Fix the Fells are due to the hard work, professionalism and commitment of all our staff and volunteers, without whom we could not continue to protect the Lake District's beauty. A very heartfelt thank you to all involved.
 Joanne Backshall, Fix the Fells Programme Manager, 1 June 2021