Hi, I'm Matt, and I'm the new Volunteer Development Ranger for Fix-the Fells in the Lake District. I'll be working with our amazing volunteer lengthsmen on projects to protect and repair the extensive upland path network from the effects of erosion. I'll also be helping to train new recruits in appropriate path repair techniques, so that all the work completed under the Fix-the-Fells banner is done so safely, effectively, and sustainably. It's a brand new role, created to act as a bridge between the skilled National Trust upland path teams and the dedicated volunteers, and I'm really excited to be tackling the various challenges that lie ahead and helping to look after the incredible Lake District landscape.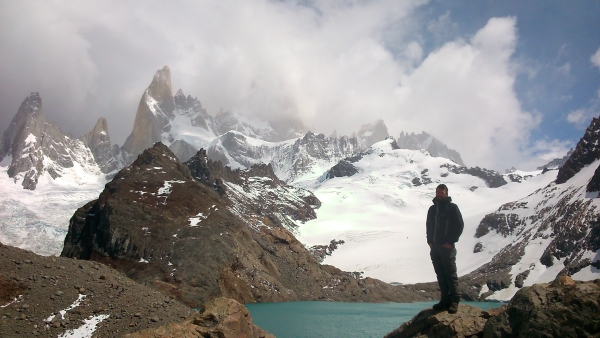 Having grown up in Manchester, some of my most cherished memories are of trips up to the Lakes exploring the mountains where as a youngster I first developed a love of the British uplands. I have returned many times over the years, to escape the hectic pace of modern life and breathe in the majesty of this inspiring corner of England, and my passion for these uplands has only intensified with each trip. 10 years ago then, I decided to take the plunge and turn this passion into something more tangible. I quit the office and was lucky enough to land a volunteer role working for the National Trust for Scotland, in stunning Glencoe. After a year here learning the ropes, including in upland path work, I gained a seasonal ranger position with the NTS at their Mar Lodge Estate in the Cairngorms. Working seasonally meant I was lucky enough to spend plenty of time exploring further flung mountain regions, in Morocco, the Himalaya, and Patagonia, and pursue an MSc in Sustainable Mountain Development. Through work, study and travel I developed a greater understanding of the issues facing mountain environments, how these fragile landscapes have been compromised by human activity, and how healthy uplands provide multiple complementary benefits to nature, to local communities, and to wider society.
After five years in Scotland I returned south of the border, working out of the National Trust's 'Basecamp' volunteer centre in the South Lakes. Basecamp engages volunteers from all sections of society in practical countryside tasks, from walling to hedgelaying to upland path building, and it was enormously rewarding to witness the restorative effects that this work had on people's health and well-being. It is certainly something I would like to explore further in my new role. During the three years I was at Basecamp I was also able to complete my MSc, with a research dissertation exploring the relationship between upland restoration projects and hill-farmers in the Lake District, a relationship which I believe will become ever more interdependent as we respond to the environmental challenges that inevitably lie ahead.
I am passionate about the benefits that healthy upland landscapes can deliver for nature, local communities, and wider society, and I believe strongly that Fix-the Fells is ideally placed to provide these 'ecosystem service' benefits. The Fix-the-Fells partnership, with its proud history of volunteer involvement and the extensive knowledge and experience of its partner organisations, is therefore particularly vital and relevant at this time, and it's a huge honour to be playing a part in helping to drive the partnership forward as it enters this exciting new phase in its development.
Matt Tweed.
Fix-the-Fells Volunteer Development Ranger.