A Nordic walking group in Cumbria has raised over £300 to help repair and maintain th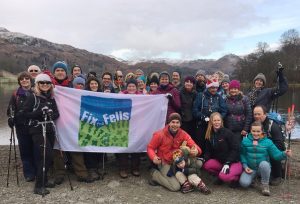 e mountain footpaths of the Lake District.
Nics Nordic Walks, which holds regular classes and sessions across the Lake District, held a Christmas walk and dinner in Grasmere this December, collecting £310 for Fix the Fells.
The event, which was attended by 35 people, included a walk around the shores of Grasmere, a Nordic SkiFit demo and a fundraising raffle with prizes donated by local businesses.
Nordic Walking is a form of walking using specially-designed walking poles that provides a full body workout.
Nicola Sproson, the owner of Nics Nordic Walks, said: "We all love the beautiful Lake District fells and it is great to be able to put something back into the landscape by fundraising for Fix the Fells.
"We had a fabulous, sunny day in Grasmere for our festive walk and everyone who came had a great time.
"Nordic walking is about inspiring folk of every age and fitness level to enjoy the fells and turn the outdoors into their gym, keeping fit with Nordic walking poles used correctly.
"And it feels amazing to be supporting the preservation of the fells we love to walk in by raising money for such a great cause as Fix the Fells."
The festive walk around the lake, which was partly led by instructors Clare and Lisa, was followed by a Christmas lunch at Greens Café and Bistro in Grasmere.
A fundraising raffle was held at the café, with prizes donated by Park Cliffe campsite and caravan park, Cottontail Cottage, Mr Duffins Coffee, Agnes & Cat, Lakeland Ltd, Coniston Sailing Club, Green's Café, The Hen House, Jo Edmondson Fitness Club, Nordic Walking UK and Leki UK.
Fix the Fells is a collaborative partnership programme between the National Trust, the Lake District National Park, Lake District Foundation, Friends of the Lake District and Natural England.
The principle and fundamental aim of the overall Fix the Fells partnership is to protect the spectacular Lakeland fells from erosion and damage by both repairing and maintaining the upland paths of the Lake District.
Joanne Backshall, programme manager of Fix the Fells, said: "We are very grateful to Nics Nordic Walks for their brilliant fundraising efforts".
"The Lake District fells are under increasing pressure from ever-growing visitor numbers and the mountains are constantly eroding".
"It is the generous fundraising efforts of groups like Nics Nordic Walks that enable us to carry out our vital work to keep the fells a special place for future generations."
"We would always encourage others to follow in their footsteps and to fundraise for our important cause."
For more information visit www.fixthefells.co.uk and www.nicsnordicwalks.co.uk