The Fix the Fells Vol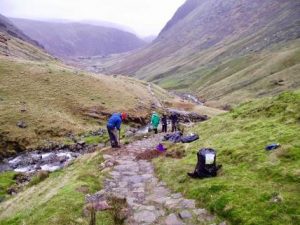 unteers have had a record breaking year in 2017, delivering more for the Lake District environment than ever before.
This army of outdoor enthusiasts spent 2237 days in the fells, looking after the mountain paths – a record number of volunteer days for Fix the Fells volunteer scheme since it began 10 years ago.
A record total of 644 "drain runs" were undertaken, where the volunteers venture on to the fells in all weathers to clear the drainage channels in the paths and ensure damaging water is shed from the path surface so that erosion is reduced.
The volunteers now routinely monitor or maintain 329 paths and in 2017 undertook 101 "work parties" to repair sections of path. Their work party activity increased from a total of 628 days in 2016, to a new total of 802 days for 2017 – another new record volunteer achievement.
A total of 117 different Fix the Fells volunteers contributed to the overall activity in some way in 2017, with 57 volunteers contributing at least 12 days (ie once a month), 13 volunteers contributing 50+ days and 3 volunteers contributing more than 100 days each! This last achievement deserves a special mention for Alan Manby of Ambleside, David Brooks of Workington and Caroline Mercer of Kirby Stephen.
Joanne Backshall, Fix the Fells Programme Manager, said: "The Fix the Fells Volunteer Lengthsmen are an amazingly dedicated group of people who turn out every week whatever the weather to look after the Lake District's upland paths. We are extremely grateful to them all for their outstanding contribution to protecting the spectacular scenery we love. Without them, the Lakeland fells would be suffering far more erosion and would look more scarred and damaged than at present."