Blog by Upland Ranger Jordan Worsfold in Borrowdale
I'm thinking back now, to a time in very recent memory where time itself took on a different identity, no longer dictated by 9 to 5's, kick-off's or train timetables but by the curve of the sun, an applause of clattering pans or the question "What day of the week is it again?"
I speak to my colleagues and we all say how long-ago lockdown feels for us. We've been back on the fell now for just over two months; and above the cloud line, far from the crowds, you can forget there is a worldwide pandemic going on. I welcomed the return to work, I'd missed the social aspect of working with my team, feeling like my day had purpose once again. Don't get me wrong, the time to reflect on my life, tinkering in the garden or on my daily bike ride was a breath of fresh air. The problem was I couldn't go for a walk in the fells without coming home with a to-do list as long as my arm. Once a ranger, always a ranger I guess.
It did feel strange coming back though, a bit like coming down to the remanence of a gathering the morning after, just that the morning came three months after. We had a lot to do as the helicopter was booked to come around three weeks after our return and we still had a lot of bags to fill to be flown to the various repair sites.
Bag-filling really is the most back breaking part of our job, hauling these heavy rocks over rough ground and heaving them into the bags. We normally have a winter programme of slightly lighter work, fencing, hedge-laying and the like to keep us in form but to give us a bit of a rest from stonework. We were going in cold with this, and much like jumping in a tarn we were certainly very quickly aware of this! However, after a few weeks the blood was circulating and we were back on form again.
We flew our stone with no set-backs despite the weather giving it a good go and the sound of bar on bedrock was soon ringing out through the valley again.
We've completed our repairs by the waterfall at Sour Milk Ghyll above Seathwaite and have now moved on to tackling three sections of pitching at the upper end of the Stockley Bridge to Styhead Tarn path.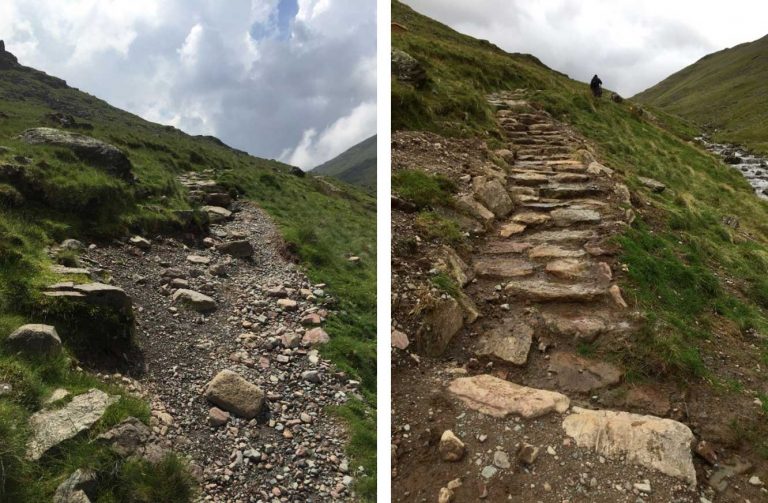 Because the weather can really come in, in England's wettest valley we have a welfare shed for our tea breaks. It was my job to get the felt on the roof in the howling wind and rain as I'm the lightest and smallest, a body shape that definitely has its disadvantages in upland shed building! When the weather does come in I can't tell you how glad we are to have a cuppa out of the rain though. Although I'm not sure Bowder the dog agrees.
We'll be finishing off the season at Castle Crag, with a section of slate steps pinning up some existing pitching. We're using material from the spoil pile below the summit quarry so that it blends in with the current work.
It's certainly a different organisation to work for post-covid but like the fells that we lovingly repair the work that we do is here to stay.