World renowned mountaineer Sir Chris Bonington – whose list of achievements include leading the successful Everest South West Face expedition in 1975 and reaching the summit in 1985, has declared his support for the Lake District Foundation's campaign to help put a stop to erosion problems blighting England's highest peak.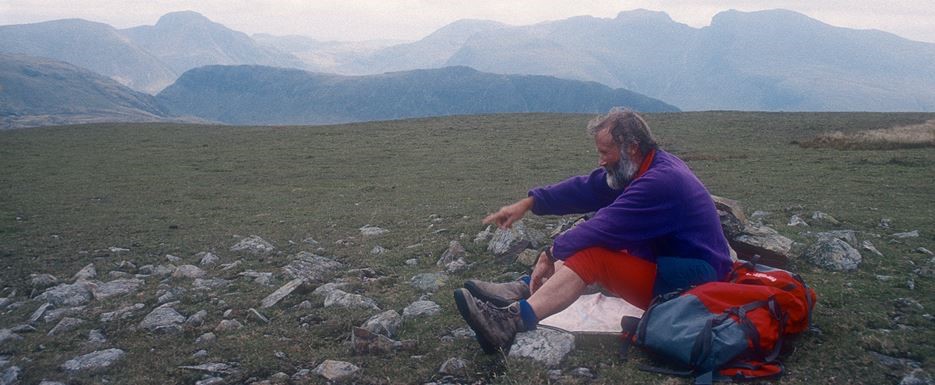 Routes up Scafell Pike are suffering due to an annual average of 100,000 pairs of walking boots treading the pathways – many of which belong to enthusiasts taking part in the Three Peaks Challenge.
In efforts to reverse the problems, last month the Lake District Foundation turned to the masses to help the charity raise money for the local 'Fix the Fells' campaign, as part of the larger, national 'Mend Our Mountains' crowdfunding initiative by the British Mountaineering Council – but the clock for donations is ticking.
Now, an extra boost to their efforts has been welcomed, with the legendary Sir Chris joining the calls for people to help the Lake District Foundation reach their target of £17,000 by October 21.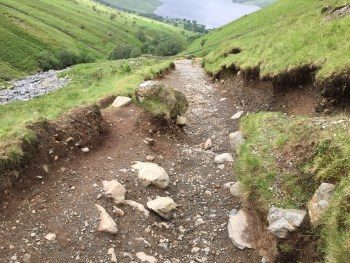 Sir Chris says, "Everybody should be able to enjoy the stunning fells of the Lake District, but it's vital that enjoyment doesn't come at a cost to the fells themselves. Scafell Pike stands proudly as England's highest mountain and understandably attracts thousands of people every year who want to add it to their list of outdoor achievements. While erosion makes getting to the top of any mountain more problematic, it can also result in people leaving the pathways and causing further damage. It is therefore correct for charities like the Lake District Foundation to raise the profile of the issue.
"Work must be done to not only reduce the risk of harm to walkers, but to the mountain itself. I'd strongly urge people who love the Lake District, and indeed mountains everywhere, to give whatever they can afford to help this important work to be carried out. I know time is of the essence, so please do whatever you can."
Lake District Foundation Director Sarah Swindley says, "It's great that we've won the support of Sir Chris Bonington. His list of personal achievements makes him England's best-known mountaineer; and with good reason! To have a figure of his stature support this campaign is such great news and we hope his endorsement will lead to even more generous donations to enable this important work to be done.
"The iconic Scafell Pike is not only England's highest mountain but a war memorial for the nation. It's therefore a fitting time for our campaign, with 2018 marking 100 years since the end of the First World War."
Scafell Pike is one of 13 nationwide projects taking part this year; and by donating, lovers of The Lake District have the chance to get their hands-on amazing rewards for their generosity. The concept is simple, donate online, and at the same time choose whether you want to receive a 'reward' in exchange.
With just six days to go until the end of the campaign on Sunday 21 October, three exciting new rewards have been released:
• Donate £150 or more to claim a Lake District Pound First Edition Collector Set. This 2018 LD£ Collector Set contains a set of perfect condition, uncirculated Lake District Pounds – LD£20, LD£10, LD£5 & LD£1 – all featuring your own unique serial number. Every LD£ you collect funds projects that look after our landscapes and local communities. Join a global community of people who love the Lake District and want to help keep it special. 25 available.
• Donate £150 or more to claim a Fix the Fells Volunteering Experience. Enjoy a day out on the Lake District fells with the Fix the Fells volunteer lengthsmen. Learn the techniques and try your hand at upland footpath maintenance. On a mutually convenient date, for up to 4 people. 2 available.
• Donate £200 or more to claim a Fix the Fells Ranger Day. An exciting opportunity to understand more about the incredible landscape around the Lake District, and all the work that goes into looking after it. Dates and locations to be arranged with the winner, can be tailored to suit interests and fitness etc. 2 people able to attend. 1 available!
Other local and unique rewards include:
• Discounts on Keswick Mountain Festival tickets – a unique event offering a fantastic mix of outdoor activities and music which will take place from 17th to 19th May 2019,
• 15% off adventure days out with EA Mountain Skills – choose from a range of adventures throughout this amazing landscape with qualified, experienced and DBS-checked instructors
• Love Cumbria cards – giving you access to over 40 fantastic 2 for 1 offers and up to 30% off attractions, activities, cafes and restaurants across the Lake District,
• 10% off a stay at Cedar Manor – a boutique hotel in Windermere where you will find traditional styling with a twist of contemporary,
• Lunch for two at Cottage in the Wood – a 17th century Restaurant located in the heart of Whinlatter, England's only Mountain forest,
• 25% off a stay at Burn How Garden House Hotel where you can escape, relax and unwind in Bowness-on-Windermere,
• A Lake District Foundation goodie bag including a £1 note from the Lake Districts' very own currency – the Lake District Pound,
• 10% off a stay at Elder Grove Bed & Breakfast – a friendly home from home, a relaxing atmosphere, and a little more than a traditional B & B in the heart of Ambleside.
People can donate online via this crowdfunding website. Some rewards are limited and will be awarded on a first come first served basis – so the sooner you donate, the better. The Lake District Foundation is coordinating the 'Mend Our Mountains' campaign for Scafell as the fundraising partner of Fix the Fells. Funds raised by this campaign will be used to repair the damaged path, rebuild drains and waterbars along the length of the paths, construct additional drains to ensure more water is taken off the paths; and to reinforce edges and stabilise the surrounding areas including through re-seeding.
Sir Chris will be in Cumbria next month, as a special guest speaker at the Kendal Mountain Festival, which runs from Thursday November 15 to Sunday November 18.