Groundwork UK – Tesco Bags of Help support Fix the Fells
A total of £4,000 will be donated by Groundwork UK-Tesco Bags of Help to look after the Lake District scenery through the work of volunteers with Fix the Fells.
The money was raised from the plastic bag tax at Tesco stores in Kendal, Bowness-on-Windermere, Millom and Ambleside.
Fix the Fells are saying a very big "Thank you!" to Tesco customers who voted in store for their favourite project each time they shopped.  Fix the Fells won the public vote for the maximum grant.
Barry Capp, Fix the Fells Volunteer from Ulverston, said, "We are delighted to receive this funding which will be used for repairs to the popular path along the shore of Grasmere at Penny Rock Bridge below Loughrigg.  The path is badly eroded and the repairs will be carried out by Fix the Fells volunteers over winter.  It will take a great deal of time and hard work to create a more resilient route at this location overlooking this beautiful lake."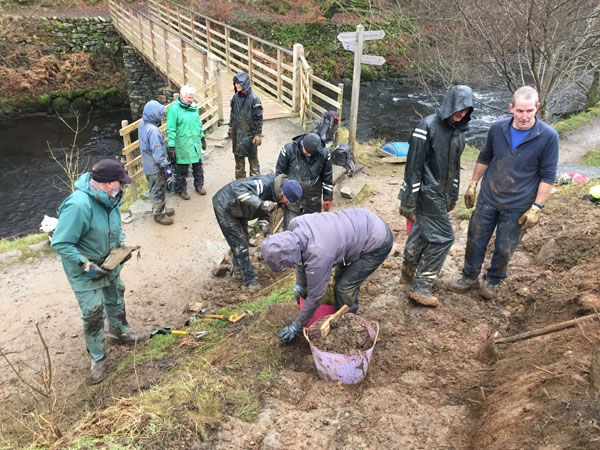 Fix the Fells aims to protect the spectacular Lakeland fells from erosion by maintaining and repairing the upland paths and landscape. This is undertaken throughout the year and in all weathers by 20 highly skilled Rangers and 130 specially trained and highly enthusiastic volunteer "lengthsmen".
This term comes from medieval times when lengthsmen were paid to walk the length of the parish and repair any roads and unblock ditches.  The majority of the lengthsmen come from in and around Cumbria and want to "give something back" to the fells they love.
Joanne Backshall, Fix the Fells Programme Manager, said, "We are really grateful for this significant contribution towards our work, which protects the scenery and wildlife of this beautiful area.  With 19 million visitors to the Lake District each year, we are having a significant impact on the fells.  We couldn't continue our efforts to repair and protect them without the fantastic help and support of everyone who appreciates this fabulous resource."