Two days on Brown Tongue, Scafell Pike, June 2021
A very productive and fun couple of days were had recently by ERDF volunteer coordinator Rob and the Fix the Fells volunteers, working on the extremely popular Brown Tongue path.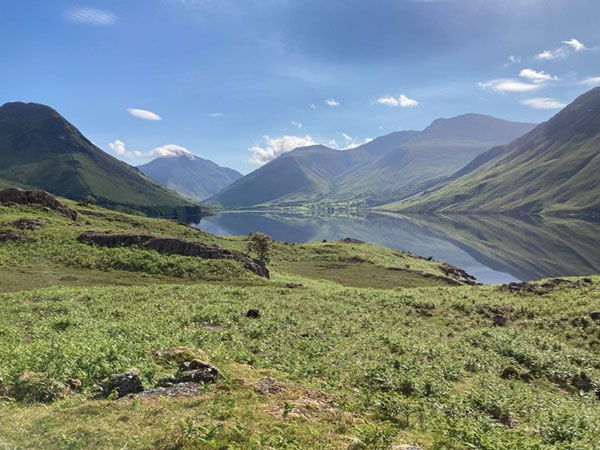 Being the main route up and down Scafell Pike this path gets very heavy use, including lots of people undertaking a '3 peaks challenge' (walking Snowdon, Scafell Pike and Ben Nevis). With many people being focussed on getting up and down England's highest peak as quickly as they can and often being unfamiliar with mountain walking the route needs to be obvious and straightforward.
A lower section had become extremely rocky and difficult to walk on and many walkers were stepping off the path itself, eroding the landscape to the side of the path as they made their way onwards. The Western valleys upland team had identified this and come up with the solution of grading this section using carefully selected aggregate from a local quarry, creating a smooth and un-impeding surface and hopefully encouraging walkers to stay on the path. With other projects to tackle further up the hill, the team handed this job over as a volunteer 'mini project'.
So, over a couple of very sunny and warm (and busy) days Rob and the volunteers worked to remove large boulders obstructing the path and grade the surface with the aggregate, using other boulders dug into the ground as 'anchors' to hold the material in place.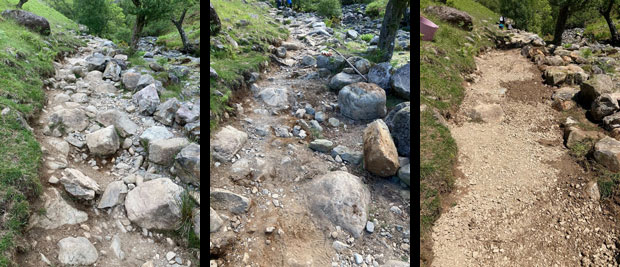 An awful lot of digging and moving of material, as well as chatting to passers by about our work, saw the end results looking better than we could have hoped. It's not our usual work and very much something we've done as a response to the challenges faced by this extraordinarily busy path, but it is now an undeniably straightforward section that should encourage all walkers to stick on the path, thereby protecting the surrounding landscape.

We're very pleased with how well this has turned out and will monitor the success of this method to see if it is something we could undertake on other sections. Initially we thought it would be awkward working on such a busy path, but it was also nice to have the chance to talk to so many people and explain what we were doing. As a bonus, many people were coming back down the same way as they went up and when they saw us still working were kind enough to put a donation in our collection pot – erosion repair, spreading understanding and fundraising all rolled into one!