A group of friends who walk in the Lake District every week have donated £450 to look after the Lake District scenery through the work of volunteers with Fix the Fells.
Fix the Fells are delighted with this support and recognition that everyone who uses the Lake District's upland paths are having an impact which costs money to repair.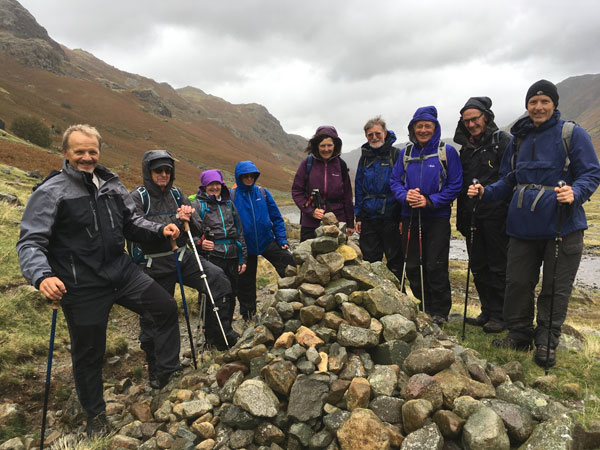 Frank McGrath, one of the walkers who lives in Cockermouth, said, "A group of us walk in the lakes every week and make a small donation on each walk which we collect and donate to a charity each year. This year we will donate to Fix the Fells as we use all the Lakeland paths. We would like to encourage other groups to do the same."
Fix the Fells aims to protect the spectacular Lakeland fells from erosion by maintaining and repairing the upland paths and landscape. This is undertaken throughout the year and in all weathers by 20 highly skilled Rangers and 130 specially trained and highly enthusiastic volunteer "lengthsmen".
This term comes from medieval times when lengthsmen were paid to walk the length of the parish and repair any roads and unblock ditches. The majority of the lengthsmen come from in and around Cumbria and want to "give something back" to the fells they love.
Joanne Backshall, Fix the Fells Programme Manager, said, "We're very grateful for this kind donation towards our work. We're delighted that people enjoying this wonderful resource realise they are contributing to the erosion occurring and are willing to contribute to its repair. This protects the scenery and wildlife of this beautiful area now and in to the future".
Fix the Fells is a partnership programme between the National Trust, the Lake District National Park, Natural England, Friends of the Lake District and the Lake District Foundation.
The aim of the Fix the Fells partnership is to protect the spectacular Lake District landscape from erosion damage by repairing and maintaining upland paths.
Fix the Fells needs over half a million pounds a year to complete its upland path repair work and this comes from grants and donations. The work completed by its 20 National Trust Rangers is currently part-funded by the European Regional Development Fund.