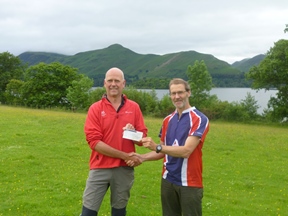 West Cumberland Orienteering Club (WCOC) has donated an amazing £250 to Fix the Fells following their annual fundraising events!
The money was raised through running several local orienteering events from which all the proceeds go to charity.
Graham Watson, chair of the WCOC said: "As orienteers we love running in the woods and hills of the Lake District but can see the wear and tear on the paths. We see the great work that Fix the Fells do and how essential it is to the care of our countryside. Making this donation is the best way for us to support Fix the Fells and show our appreciation for the hard work of the path teams."
West Cumberland Orienteering Club actively introduces people young and old to the outdoors through the fantastic sport of orienteering, with members who range from beginners to elites who have represented England and Great Britain.
Joanne Backshall, Fix the Fells Programme Manager said, "We are delighted to receive this kind donation from the West Cumberland Orienteering Club. It is contributions like this that make our work possible and it goes directly into repairing the upland paths in the area. Having the support and recognition of the WCOC of the importance of the work we do is much appreciated and also helps to raise awareness of what we do and why amongst the very people who use the fell paths."
£250 pays for three bags of rock to be moved by helicopter for example, which enables our Ranger teams and volunteers to work on the paths each year.