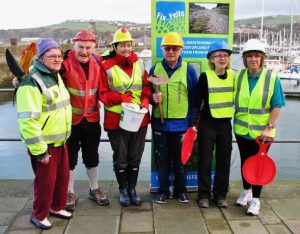 A walking group in Whitehaven is celebrating an impressive milestone by helping to repair and maintain the mountain footpaths they love to walk in.
Whitehaven Rambling Club, which was founded in 1928, is celebrating its 90th anniversary in 2018 – and is marking the occasion by fundraising for Fix the Fells.
The club is holding a series of talks, events and raffles to raise money for the good cause, which cares for the mountain paths of the beautiful Lake District fells.
And some members even donned fancy dress costumes and braved the freezing water during Whitehaven's annual New Year's Eve dip to raise sponsorship.
Brenda Black, secretary of Whitehaven Rambling Club said: "90 years of rambling is certainly an outstanding achievement of which we are very proud and is worthy of celebration.
"The commitment of the many long standing members and their dedication over many years has led to the success and longevity of the Club.
"Our chosen charity for this our 90th year was only fitting to be something that all ramblers would benefit from. Fix the Fells certainly fell into that category – I have no doubt that everyone will agree; as far as rambling is concerned we will be the ones benefiting from their work."
Bill Stainton, President of Whitehaven Rambling Club, added: "I wish to thank, most sincerely, the members who took part in the Dip and all the many friends who sponsored them. I also would like to thank everyone who has given so generously in support of our most worthy designated charity, in this our 90th year, of Fix the Fells."
Whitehaven Rambling Club will mark its official 90-year anniversary on Saturday, June 2, with a special event in the town, including a talk by Cumbrian broadcaster and author Eric Robson.
Fix the Fells is a collaborative partnership programme between the National Trust, the Lake District National Park, Lake District Foundation, Friends of the Lake District and Natural England.
The principle and fundamental aim of the overall Fix the Fells partnership is to protect the spectacular Lakeland fells from erosion and damage by both repairing and maintaining the upland paths of the Lake District.
Joanne Backshall, programme manager of Fix the Fells, said: ""We are very grateful to Whitehaven Rambling Club for their brilliant fundraising efforts.
"The Lake District fells are under increasing pressure from ever-growing visitor numbers and the mountains are constantly eroding.
"It is the generous fundraising efforts of groups like Whitehaven Rambling Club that enable us to carry out our vital work to keep the fells a special place for future generations.
"We would always encourage others to follow in their footsteps and to fund-raise for our important cause."
For more information visit www.fixthefells.co.uk and www.whitehavenramblingclub.org